Love, Lies, and Larceny
This is the first book I have read by Jennifer Pierce, and I tried it because it's part of the Suamalie Island Series, which I've enjoyed in the past. Tropical Target is Book 8 in the series. The story revolves around Detective Noa Tanielu's investigation into a series of thefts and a murder during the ever-popular destination weddings on Le Cadeau Île.
The plot introduces wedding photographer Haley Marsh, who moves to the island to escape the heartache of her wedding that never happened. When she becomes a suspect, and then a target in the case, a fake engagement becomes her unlikely ally. As the story unfolds, it becomes clear that the resolution of the mystery hinges on maintaining this charade.
Throughout the book, I felt like I was on a journey to the Suamalie Islands. The author does a great job of vividly describing the island with palm trees, vibrant beaches, and a warm, inviting atmosphere. The story also touches on the complexities of relationships, including Noa's interactions with his mother.
I enjoyed the author's engaging writing style. She skillfully weaves together the elements of romance and mystery. The book provided a compelling narrative that kept me intrigued from start to finish, making it a great addition to the Suamalie Island Series.
Note: I received a copy of this book from Celebrate Lit for review. I was not compensated for my review, nor was I expected to give a positive review. I have given my honest review.
Tropical Target is on Tour with Celebrate Lit.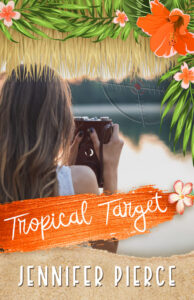 Book: Tropical Target
Author: Jennifer Pierce
Genre: Christian Contemporary Suspense
Release Date: September 26, 2023
Being accused of murdering a client isn't good for business.
Tropical islands are popular for destination weddings. But Le Cadeau Île won't be a popular destination for long if Detective Noa Tanielu can't find out who is responsible for a ring of thefts occurring during weddings. When the thefts escalate to the murder of a bridezilla, the most likely suspect is the new wedding photographer.
Wedding photographer Haley Marsh moved to the island to nurse her broken heart and start over after being dumped two days before her wedding. When she's moved from the suspect list to the target list, a little white lie leads to a fake engagement. With Haley's connections to the wedding business, it's clear the key to solving this case lies in keeping up the charade.
Noa and Haley must navigate the investigation and Noa's mother's attempts to make the engagement all too real…if they survive that is.
Take a trip to the Suamalie Islands where palm trees sway, the sand and sea pulse with life, and the people will steal your heart.
Click here to get your copy!
About the Author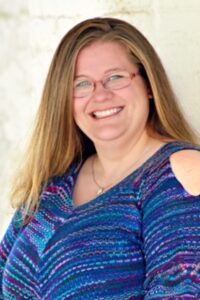 Jennifer Pierce currently lives in Arkansas with her husband and two children. Her debut novel, Hidden Danger, is a 2019 Selah Award winner, and her second novel, Expecting Danger is a 2019 Selah award finalist. Her third novel, Deadly Connection released on October 20, 2020. Giving Grace, a contemporary romance Christmas novella released on November 13, 2020. She is a member of American Christian Fiction Writers and River Valley Writers.
More from Jennifer
I am so excited to be writing for the Suamalie Island series. Writing books set on tropical islands is so much fun. I knew going into Tropical Target that I wanted Noa to be a detective, but I wasn't so sure on what type of occupation Haley needed. What was something that she could do for both the tourists and those that made the islands their home?
Then I remembered when my grandmother died, one of my aunts took all her photos and scanned them into the computer and made CDs and gave them to the rest of the family. I thought that would be a fantastic job for Haley. She could be a photographer who shoots destination weddings and special events for tourists and locals, and she could also travel the islands and make keepsakes for the locals. I expanded it even further to allow her to make copies of some of the photographs and sell them to tourists as authentic photographs of the islands. So, that's how Seas the Moment was created.
The next thing I had to figure out was how to make Noa and Haley's paths cross. What better way than for him to accuse her of murder? I wanted to pit the two of them against each other but then force them to work together. Kind of an enemies to more fake engagement trope.
Once those things were in place, it was just a matter of weaving the story together. There's suspense, romance, faith, and a few witty comebacks in the mix. I hope you enjoy reading it as much as I enjoyed writing it.
Blog Stops
Debbie's Dusty Deliberations, October 10
lakesidelivingsite, October 11
She Lives To Read, October 11
An Author's Take, October 12
Texas Book-aholic, October 13
Splashes of Joy, October 13
Locks, Hooks and Books, October 14
Gina Holder, Author and Blogger, October 15 (Author Interview)
Christina's Corner, October 15
Because I said so — and other adventures in Parenting, October 16
Truth and Grace Homeschool Academy, October 17
Library Lady's Kid Lit, October 17
Aryn the Libraryan, October 18
Mary Hake, October 18
Happily Managing a Household of Boys, October 19
Blogging With Carol, October 20
Simple Harvest Reads, October 21 (Guest Review from Donna Cline)
Karen Baney Reviews, October 21
For Him and My Family, October 22
Holly's Book Corner, October 23
Giveaway
To celebrate her tour, Jennifer is giving away the grand prize package of a $25 Amazon gift card & a copy of the book!! Be sure to comment on the blog stops for nine extra entries into the giveaway! Click the link below to enter.