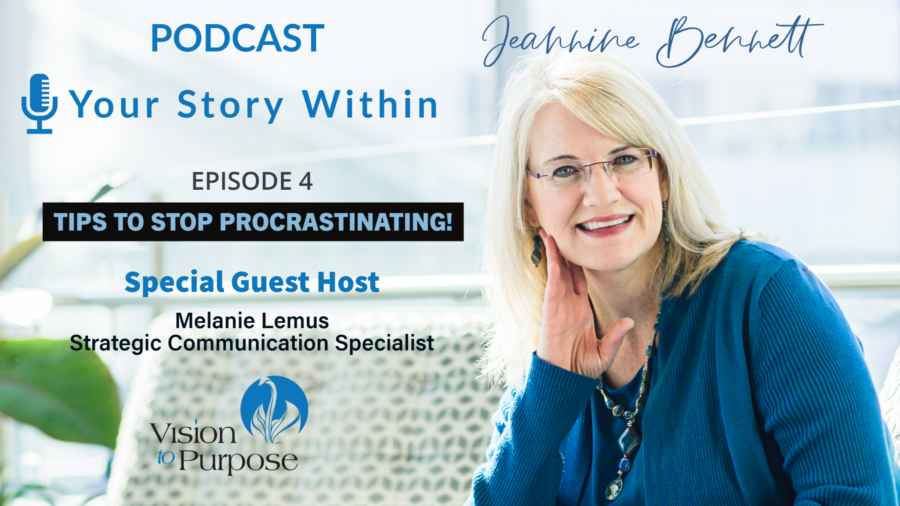 Stop Procrastinating
🎙️ Your Story Within Podcast: Conquer Procrastination with Special Guest Host, Melanie Lemus! ⏰
In Episode 4 of "Your Story Within Podcast," we had the pleasure of welcoming a special guest host, Melanie Lemus from Vision to Purpose, to tackle the infamous topic of procrastination. Get ready for an episode that will help you reclaim your time, boost your productivity, and conquer the habits that hold you back!
⏳ Break Free from Procrastination: Three Reasons to Watch! 🎧
1️⃣ Understanding the Procrastination Puzzle: Join us as Melanie and I unravel the complexities of procrastination and delve into its root causes. Gain valuable insights into why we procrastinate, the impact it has on our productivity, and the underlying psychological factors that contribute to this common struggle.
2️⃣ Proven Strategies and Practical Tips: Discover powerful techniques to overcome procrastination and develop a proactive mindset. Melanie shares her expertise and offers practical tips to help you break free from the cycle of procrastination. From time management strategies to motivation hacks, you'll learn how to reclaim control over your creative pursuits.
3️⃣ Embrace Your Productive Potential: Uncover the secrets to unlocking your true potential and achieving your goals. Melanie discusses how overcoming procrastination can lead to increased creativity, enhanced focus, and a sense of accomplishment. Discover how to harness your inner drive and transform procrastination into productivity.
📢 How to Seize the Procrastination Episode: 🌟
1️⃣ Watch the Video Podcast: Immerse yourself in this captivating episode by watching the video podcast on our platform. Let Melanie guide you on a journey of self-discovery and provide you with the tools to conquer procrastination once and for all.
2️⃣ Share the Inspiration: Spread the word about this transformative episode with friends, colleagues, and fellow creatives who struggle with procrastination. Together, let's inspire and motivate one another to break free from procrastination's grip and embrace a more productive and fulfilling creative journey.
3️⃣ Engage and Connect: We want to hear from you! Join the conversation by leaving your comments and questions on the podcast's platform or through social media. Share your personal experiences, tips, and success stories in overcoming procrastination. Let's create a supportive community that empowers one another to thrive.
⏰ The time to conquer procrastination is now! Tune in to "Your Story Within Podcast" as we explore the depths of this common creative struggle with Melanie Lemus. Equip yourself with the knowledge, strategies, and mindset needed to unlock your productivity and unleash your creative potential. It's time to stop procrastinating and start living your most inspired life! ⏰
Click the graphic below to start the video!