Author: Mollie Rushmeyer
Genre: Contemporary Women's Fiction (Christian)
Release date: October 25, 2022
A collection of lost books holds the clues to her family's legacy…and her future.
Hope Sparrow has mastered the art of outrunning her tragic past, learning never to stay anywhere too long and never to allow anyone control over her life again. Coming to Wanishin Falls in search of her family's history already feels too risky. But somewhere in the towering stacks of this dusty old bookshop are the books that hold Hope's last ties to her late mother—and to a rumored family treasure that could help her start over.
Only, the bookshop is in shambles, and the elderly owner is in the beginning stages of dementia and can't remember where the books lie. To find the last links to the loved ones she's lost, Hope must stay and accept help from the townsfolk to locate the treasured volumes. Each secret she uncovers brings her closer to understanding where she came from. But the longer she stays in the quaint town, the more people find their way into the cracks in her heart. And letting them in may be the greatest risk of all…
Click here to get your copy!
An Author's Take Review
If you like Christian Contemporary Women's Fiction, check out The Bookshop of Secrets by Mollie Rushmeyer. The book is so well written that, at times, I forgot that this is Mollie's first book. The author is undoubtedly a master of the written word.
As a girl raised in the Midwest, the book's description immediately caught my attention. I couldn't wait to see how Hope Sparrow, a woman running from a tragic past, could connect with her family's history and find a rumored treasure that would kickstart a whole new life for her.
The story opens with Hope arriving in Wanishin Falls to grab some classic books set aside for her at a quaint bookshop by someone who recently passed away. She finds that the bookstore is in disarray and managed by a person with dementia. The owner can't recall where the books are, but his wife allows Hope to search for the books for as long as she needs to. Sadly, the books are nowhere to be found. However, what she does find is the bookshop owner's grandson, Ronan Barrick, who is more than willing to help with her quest.
The story gets interesting as Hope and Ronan encounter many scenarios that evoke lots of emotion. Emotions arise from dealing with a rebellious teen, a dishonest bookshop competitor, accepting townspeople, and their growing connection. There are plenty of twists and turns to keep you reading.
The book was a bit longer than my most recent reads; however, I still thoroughly enjoyed reading it. I give The Bookshop of Secrets 4.5 out of 5 stars.
Note: I reviewed a complimentary copy of this book, which I received through Celebrate Lit. I was not required to write a positive review, nor was I compensated for sharing my thoughts. I am disclosing this per FTC regulations.
About the Author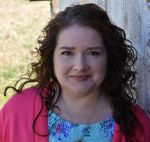 Mollie writes contemporary fiction with a heart for history. What does this mean exactly? She loves to write inspirational fiction in contemporary settings with fascinating historical elements, people, objects, and stories woven throughout.
A modern girl herself– She wouldn't want to go a day without modern plumbing and central air! But she's always felt a special connection to the past. The legacies and lives left behind are like gifts waiting to be unwrapped, and she's excited to share this blend of history and contemporary living with readers.
A born and bred Midwestern gal, Mollie Rushmeyer, makes her home in central Minnesota with her husband and two spunky, beautiful daughters. She is not only a bibliophile (the dustier the better, in her opinion), she's a true anglophile at heart. Tea and coffee fuel her travels, by Google maps at least, and her passion for the written word.
More from Mollie
Since childhood, opening up a book unlocked a whole new world for me. Of possibilities and adventure, and made me care for people and places that didn't exist. Like stepping through the wardrobe into Narnia, books transported me. It was like magic.
As I began dreaming up The Bookshop of Secrets in its early stages, I knew I wanted to create a character who loved books and was in awe of their transformative and transportive power as much as I am. Thus, Hope Sparrow, a human trafficking survivor and ultimate book lover, was born. I also wanted to honor my grandpa, who planted the seed—love of the written word—in my heart from the time I was very young. And so, Ulysses, the owner of Dusty Jackets Bookshop in the story, is based on my sweet grandpa who has since passed away. But I know he'd love this homage to all things literary.
Afterward, I didn't know if I'd ever write again and I was more terrified of that than not gaining back the full strength of my left arm.
In the middle of writing this book, in 2018, I had a stroke. As with most medical emergencies, it was quite unexpected. I had a hole in my heart (that has been repaired, thankfully). Afterward, I didn't know if I'd ever write again and I was more terrified of that than not being able to fully move my left arm again. My brain had to make new connections and it was so difficult, still is some days, to be creative. To find the right words.
But God. In the way that only He can, He brought this forgotten story, this project's finish line that seemed to be at the summit of an insurmountable mountain within reach. I thought I had something to prove to myself. I begged God not to forget my dream to write. Like He could. But in the end, I just had to trust like my character Hope. Trust that He is good even when life hurts and is uncertain.
"Do you know what the opposite of fear is?"
"Bravery? Peace?" Dare she say her namesake, hope?
"The true counterpart of fear is faith. It takes faith to walk into the future, the unknown, with confidence. Secure in the love of the One who created you and those around you outweighs any hardship, real or imagined, that lies on the path ahead."
I hope following Hope's journey of healing and love in The Bookshop of Secrets truly blesses you.
Blog Stops
Book Reviews From an Avid Reader, October 27
lakesidelivingsite, October 27
Inklings and notions, October 28
Happily Managing a Household of Boys, October 28
Simple Harvest Reads, October 28 (Guest Review from Mindy Houng)
An Author's Take, October 29
The Write Escape, October 29
deb's Book Review, October 29
Texas Book-aholic, October 30
Rebecca Tews, October 30
Blogging With Carol, October 30
Debbie's Dusty Deliberations, October 31
Inspired by fiction, October 31
Life of Literature, October 31
Because I said so — and other adventures in Parenting, November 1
Lily's Book Reviews, November 1
Cover Lover Book Review, November 1
Locks, Hooks and Books, November 2
Losing the Busyness, November 2
For Him and My Family, November 2
Ashley's Clean Book Reviews, November 3
Holly's Book Corner, November 3
Mary Hake, November 3
Gina Holder, Author and Blogger, November 4 (Author Interview)
Paula's Pad of Suspense and Detection, November 4
Blossoms and Blessings, November 4
Sylvan Musings, November 5
Lily's Book Reviews, November 5
A Modern Day Fairy Tale, November 5
A Reader's Brain, November 6
Book Looks by Lisa, November 6
Babbling Becky L's Book Impressions, November 7
Truth and Grace Homeachool Academy, November 7
Story Craft, November 7
Through the fire blogs, November 8
Pause for Tales, November 8
Labor Not in Vain, November 8
Musings of a Sassy Bookish Mama, November 9
To Everything There Is A Season, November 9
Lights in a Dark World, November 9
Giveaway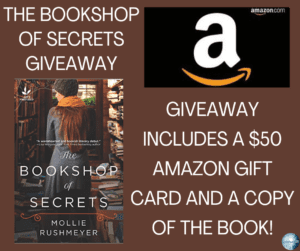 To celebrate her tour, Mollie is giving away the grand prize package of a eBook or signed paperback copy (paperback U.S. Only) of The Bookshop of Secrets and a $50 Amazon gift card!!
Be sure to comment on the blog stops for nine extra entries into the giveaway! Click the link below to enter.