City Mayhem Meets Country Charm
This is the first book I have read by the author, Caryl McAdoo. I am a fan of historical romance fiction, so I figured I would give it a read. The book takes you on a captivating journey through the contrasting worlds of a country girl and the chaos of Dallas in the late 1870s. The author skillfully crafts a story filled with memorable characters and heartfelt emotions.
The story opens with Alexandria Bell, a young woman who inherits her uncle's share of the newspaper, Texas Times, throwing her into the world of journalism and city living. Alex, as she is called, is quickly noticed by everyone, including three suitors who vie for her heart. The suitors are engaging characters, each with unique qualities, making you wonder which suitor Alex will choose.
Alex is a strong-willed and relatable protagonist, and her growth as she navigates city life is inspiring. The historical setting is vivid, immersing readers in the time period of Dallas quite nicely.
I found the book to be an easy and enjoyable read. Texas Times is a heartwarming tale.

Note: I received a copy of this book from the author and was not required to write a positive review.
On Tour with Celebrate Lit. 
Author: Caryl McAdoo
Genre: Historical Romance
Release Date: September 8, 2023
A prim and proper country girl is thrown into a mayhem of madams and mercy killing when Alexandria Bell inherits her estranged uncle's portion of a big city's premier newspaper, the Texas Times. She does find the pickin's better in Dallas as before she knows it, three suitors vie for her attentions. One makes her laugh, one speaks to her heart, and the third possesses such a way with words, he make her envious of his talent . . . but she's his boss. Come along on Alex's new career adventure and see if any are successful in winning her heart and hand.
Click here to get your copy!
About the Author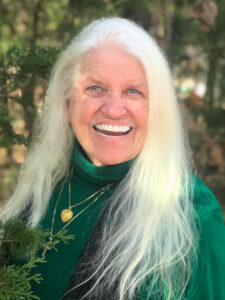 Award-winning author Caryl McAdoo prays her story brings God glory, and her best-selling tales—coming up on seventy titles now published—delight readers all around the world. The prolific writer also enjoys singing the new songs the Lord gives her; you may listen to those at her YouTube channel.
She loves working in the yard at The Peaceable, her home tucked away on twenty acres, mowing and planting flowers. She lives there with Ron, her high school sweetheart and husband of fifty-five years, five dogs, two dairy goats she milks daily, a flock of chickens, and a plethora of barn cats.
The couple shares four children and twenty-seven grandsugars, six are greats. Caryl and Ron love their quiet, country life in the woods south of Clarksville, seat of Red River County in far Northeast Texas and wait expectantly for God to open the next door so they may do His will.
More from Caryl
I can't imagine the Cross Timbers Romance Family Saga coming to an end anytime soon, but I'm up to nine books in it! I love these characters so much and the fact that some of those beautiful fictitious people I love from my first family saga (Texas Romances) show up from time to time—I mean they all live in Texas so. . . !
This book nine, TEXAS TIMES, has been so much fun because of its background setting—a Dallas newspaper in 1877. It lends itself to anything happening, so the adventure and pace of the story know no bounds!
I introduce a new female character as my heroine in TEXAS TIMES, Alexandria, who is moving to Dallas from the tiny Texas Hill Country community of Spicewood to assume a new position at the newspaper there after inheriting a forty-five percent ownership of it.
The Cross Timbers' characters show up in TEXAS TIMES as the heroes. There's Amos Humble, the paper's star reporter and son of Landry and Arlene Humble (book three TEXAS TEARS) and Stephen O'Neal, the first class fiddler son of Flynn and Alicia (book one GONE TO TEXAS.) So I'm still in the third generation with no telling how many more books to go!
This story covers a lot. Forgiveness of others and one's self, God's supernatural miracles, His giftings, His plans and purposes for our lives, the importance of truth… I could go on and on. I pray you all will enjoy this fast-paced story and that it gives God glory!
BLESSINGS!
Blog Stops
Debbie's Dusty Deliberations, October 18
An Author's Take, October 19
Locks, Hooks and Books, October 20
Jodie Wolfe – Stories Where Hope and Quirky Meet, October 21 (Author Interview)
Happily Managing a Household of Boys, October 22
Truth and Grace Homeschool Academy, October 23
Texas Book-aholic, October 24
ABBA's Prayer Warrior Princess, October 25
Pause for Tales, October 26
Sylvan Musings, October 27 (Author Interview)
The Lit Lady, October 27
For Him and MY Family, October 28
By The Book, October 29 (Author Interview)
Exploring the Written Word, October 29
Holly's Book Corner, October 30
Cover Lover Book Review, October 31
Giveaway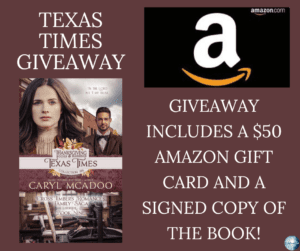 To celebrate her tour, Caryl is giving away the prize of a $50 Amazon gift card and signed copy of the book!!
Be sure to comment on the blog stops for nine extra entries into the giveaway! Click the link below to enter.