Finding Strength in the Storms
As an avid reader, I tend to stick to my tried-and-true genres and often overlook teen and young adult books. But something about Stormy Encounters by B J Howe caught my eye and I couldn't resist giving it a chance. I am sure glad I did! This book may be short, but it packs a powerful punch with its engaging lessons, sure to captivate any young reader. The author has a way of drawing the reader in and making them feel like they're part of the story. In fact, I'm so impressed with this book that I can't wait to share it with my 16-year-old grandson.
Note: links may be affiliate links that provide me with a small commission at no extra expense to you.
Revving Up for a Wild Ride
The story opens with two teenagers as they take a joy ride in a sports car they definitely should not be driving. The excitement quickly turns to panic when they're pulled over by an officer for a missing headlight, and that's just the beginning of the wild ride in Stormy Encounters by B J Howe. This coming-of-age novel is jam-packed with lightning-fast cars, tough decisions, and heart-pounding consequences that will keep you turning pages until the very end. As a parent, I found myself reacting to the story in one way, but as someone who remembers my own teenage years, I was also pulled in a completely different direction. The author's ability to keep readers engaged and emotionally invested is truly remarkable. But when the town bully has you in his sights and there's no way out, what will you do? That's the question facing Steven Carlson, the main character, in this unforgettable tale of courage, resilience, and self-discovery.
Whether you're a teenager or simply young at heart, Stormy Encounters is a must-read that will leave you feeling inspired and empowered. I give author B J Howe 5 out of 5 stars for Stormy Encounters.
Note: I was fortunate to receive a complimentary copy of this book from Celebrate Lit in exchange for an honest review. Rest assured, my thoughts were not influenced by this arrangement! I was under no obligation to write a positive review or receive any compensation. I am simply being transparent and complying with FTC regulations.
Stormy Encounters is on Tour with Celebrate Lit.
Author: B J Howe
Genre: Teen/YA Action Adventure
Release date: March 14, 2023
When the biggest bully in town has you in his crosshairs, you can run, or you can dig deep inside and discover who you really are. Steven Carlson finds himself saddled with an unexpected debt he cannot afford, changing his plans for a summer of fun to one that forces him to places he never wanted to go.
There are storms on the horizon and equally daunting storms of the heart. With a father he doesn't understand and a mother he can't remember, Steven's sixteenth year launches him on a journey that will forever alter his world.
In one unforgettable season, Steven Carlson is pushed to the edge of disaster and forced to confront his prison of self-doubt.
Click here to get your copy!
About the Author
Barb (B J) Howe has enjoyed entertaining others with stories since she was a child. As an adult, she used storytelling techniques to communicate in various workplace settings before exploring the art of memoir writing and fiction.
Stormy Encounters is her first significant work of fiction. Writing about teenage boys and lightning fast cars was inspired by her grandson, who at age four attempted to drive her car, and at age ten reminded her that he was a mere five years away from a driving permit. He is now entering his teen years.
Howe resides in Chanhassen MN with husband, Dave Howe, author of Live Pure and Free: The 90-Day Game Changer. She is on staff with Christian Grandparenting Network, and has contributed to several publications including: Focus on the Family's Clubhouse Jr. Magazine and Guideposts. Her desire in writing this book is to encourage young adults to mature in their integrity and pursue a personal relationship with Christ.
More from Barb
Getting through those teenage years is an adventure. Ask anyone who's been there. The challenges are real, the outcomes, let's just say unpredictable. Today's young generation seems to have more than a fair share of confusing messages roaring at them, and far more outlets than any previous generation to access them. This can make the journey to adulthood far more daunting.
Too many of the books found at public libraries and book stores carry dark messages with little hope. Stormy Encounters is about smokin' hot cars, swaggering bravado, and, of course, girls. You know, the things that get young guys' engines revving in high gear. This approach cruises into their world and shows how to work through difficulties without getting preachy. That's the kind of thinking that first enticed Howe to speak to teens through fiction.
Face it. No matter who we are, we all share at least one thing in common: every day we make hundreds of choices. Some of those choices affect the rest of our lives. Stormy Encounters is all about helping teens, especially teen boys, make the kinds of choices that bring positive results. The pace is fast enough to be exciting, steady to drive interest. Don't worry; it's all clean. Maybe these are the reasons teen girls and adults also enjoy reading Stormy Encounters.
Howe's writing career began with corporate and freelance writing. But it was the nuances of memoir writing that led to fiction. They're both centered around human interactions. With Stormy Encounters, readers get to see how three different generations come together with all their individual quirks in one complex story that explores the emotions of grief, happiness, love, sadness, and hope. We can all use a big dose of hope.
When not writing, Howe enjoys urban hiking (a.k.a., neighborhood walks), bicycling through the countryside, and baking bread. Try this wild rice bread recipe. It positively screams Minnesota, the state where Stormy Encounters takes place.
Minnesota Wild Rice Bread
Ingredients:
¼ cup wild rice, raw
2 cups water
1 package dry yeast
1/3 cup warm water
2 cups milk, scalded
2 tablespoons melted butter
½ cup honey
2 teaspoons salt
½ cup rolled oats, uncooked
½ cup rye flour
1-1/2 cups whole-wheat flour
½ cup bran
3-1/2 cups unbleached flour, plus up to 1 cup (if needed)
1 egg, beaten
1 tablespoon water
¼ cup hulled sunflower seeds
Directions:
1. Bring 2 cups water to a boil in a small saucepan. Add rice, cover, and cook over very low heat until rice is tender, approx. 45-60 minutes. Allow to cool.
2. Stir yeast into 1/3 cup warm water and let stand 5 minutes. Stir in milk, butter, honey, salt, and oats. Add cooled rice mixture to milk mixture.
3. Using a wooden spoon, stir together rye flower, whole-wheat flour, bran, and 3-1/2 cups of unbleached flour. Add to milk and yeast mixture, stirring until soft dough forms. Add more unbleached flour, as needed, until dough is easy to handle.
4. Turn dough onto a floured board and knead until soft and elastic, about 10 minutes. Place dough in an oiled bowl and turn so the top is oiled. Let rise 2 hours.
5. Punch dough and shape into two loaves. Place in 2 greased 9-1/2 x 5-1/2-inch pans. Let rise again, about 1 hour. Preheat oven to 375 degrees F.
6. Bake 45 minutes. During the last 15 minutes of baking, brush loaves with 1 beaten egg mixed with 1 tablespoon of water and sprinkle with sunflower seeds.
Blog Stops
Debbie's Dusty Deliberations, May 8
An Author's Take, May 9
Lots of Helpers, May 10
Girls in White Dresses, May 10
Texas Book-aholic, May 11
Book Reviews From an Avid Reader, May 12
The Life We Build, May 12
Locks, Hooks and Books, May 13
Because I said so — and other adventures in Parenting, May 14
Truth and Grace Homeschool Academy, May 15
Library Lady's Kid Lit, May 16
Gina Holder, Author and Blogger, May 17 (Author Interview)
Mary Hake, May 17
For Him and My Family, May 18
Little Homeschool on the Prairie, May 19
A Reader's Brain, May 20
Blogging With Carol, May 21
Holly's Book Corner, May 21
Giveaway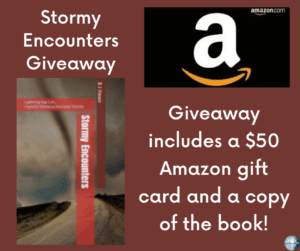 To celebrate her tour, B.J. is giving away the grand prize package of a $50 Amazon gift card and a copy of Stormy Encounters!!
Be sure to comment on the blog stops for nine extra entries into the giveaway! Click the link below to enter.