Book: Starlight Inn
Author: Annee Jones
Genre: Sweet/ Clean Contemporary Romance
Release date: November 4, 2022
Hope Garland is driving home for Christmas. She's depressed because she caught her fiancé cheating (or he dumped her for her best friend). Tears blurred her vision, she crashes the car….. in reality she gets taken to hospital and is in a coma.
However, in her mind after the crash she's OK, she gets out of the car, but it is totaled & it's in the middle of a snowstorm. Needs a place to stay…. Finds the Starlight Inn, run by the Kringles. Meets other guests, including a handsome stranger. They'll be snowed in for Christmas so have to make the best of things…..end up falling in love.
When she wakes from the coma on Christmas Day, she finds someone set a snow globe on the windowsill next to her bed which has a little Victorian inn inside with a sign that says "Starlight Inn". The doctor comes in (or perhaps it will be the young hospital chaplain) and it's the same man from her dream that she fell in love with (and there's promise for them to have a real-life romance).
Click here to get your copy!
An Author's Take
Book Review: Starlight Inn by Annee Jones
If you want a book to put you in the Christmas mood, you must check out Starlight Inn by Annee Jones.
The story opens with Hope Garland, a young woman at a crossroads in life. She accepts a job in Chicago, thousands of miles away from her family residing in Dallas. Traveling days before Christmas has her wondering if she made the right decision in taking the new job so far from home. Determined to shake the doubts, she presses on toward her destination until a snowstorm forces her to stop for the night.
The story gets interesting when Hope finds herself hunkered down at the local Starlight Inn. Enjoying time with complete strangers, who also feel awkwardly familiar, awakens the Christmas spirit in Hope. She also finds herself drawing closer to Nick White, another stranded traveler. Together they form a special bond by discussing family, life, and future goals. The time at the Starlight Inn causes Hope to re-evaluate everything she thought was important to her.
The story was a lighthearted, quick read with some fun twists and turns. It definitely got me in the mood to celebrate Christmas and everything that goes with it. Family, Hallmark movies, hot chocolate, cookies, and most importantly, Jesus!
I recommend giving Starlight Inn a read. I give it 4 out of 5 stars.
Note: I reviewed a complimentary copy of this book, which I received through Celebrate Lit. I was not required to write a positive review nor compensated for sharing my thoughts. I am disclosing this per FTC regulations.
About the Author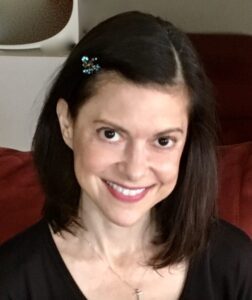 Author Annee Jones loves to write all things romance, fantasy, cozy mystery, & more. She is passionate about writing stories where dreams come true, and love wins in the end!
Professionally, Annee works as a disability counselor where she helps her clients navigate through complex medical and legal systems while rediscovering their wholeness in Spirit.
Subscribe to Annee's newsletter to stay up to date on new releases, sneak peeks, author parties, and exclusive giveaways: https://www.anneejones.com/newsletter.
More from Annee
Angel Cookies
½ C. brown sugar
½ C. granulated sugar
½ C. shortening
1 stick butter
1 egg
1 tsp vanilla
2 C. sifted flour
1 tsp cream of tartar
1 tsp soda
½ tsp salt
Instructions:
Cream sugars, shortening, and butter together. Add egg and vanilla. Add other ingredients. Form into balls about the size of walnuts. Dip half of the ball into water, then in granulated sugar. Bake on greased cookie sheet at 350 degrees for 12 minutes.
Blog Stops
Debbie's Dusty Deliberations, November 10
Holly's Book Corner, November 10
Texas Book-aholic, November 11
Inklings and notions, November 12
Jeanette's Thoughts, November 12
deb's Book Review, November 13
Locks, Hooks and Books, November 14
Ashley's Clean Book Reviews, November 15
Bizwings Blog, November 15
Truth and Grace Homeschool Academy, November 16
An Author's Take, November 17
Because I said so — and other adventures in Parenting, November 18
Blogging With Carol, November 18
She Lives to Read, November 19
For Him and My Family, November 20
Happily Managing a Household of Boys, November 21
A Modern Day Fairy Tale, November 22
Mary Hake, November 22
Cats in the Cradle Blog, November 23
Giveaway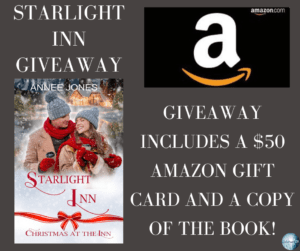 To celebrate her tour, Annee is giving away the grand prize package of a $50 gift card and copy of the book!!
Be sure to comment on the blog stops for nine extra entries into the giveaway! Click the link below to enter.