About the Book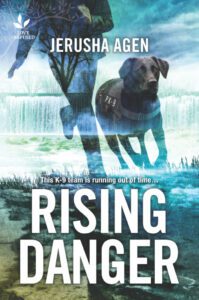 Author: Jerusha Agen
Genre: Christian Romantic Suspense
Release date: May 25, 2021
It's up to a K-9 handler and her canine partner to stop a bomber before it's too late.
Someone's planting explosives on dams in the Twin Cities, and Bristol Bachmann and her bomb sniffing dog must move quickly to find them before everything ends up underwater. That means relying on the dams' supervisor—an ex-boyfriend Bristol never thought she'd see again. Hopefully Remington Jones has grown up from the rakish charmer she knew in her academy days. Because lives now depend entirely on them…
It's an environmental terrorist who wants the dams gone, and his bid to set the waters free has lethal consequences. When he sees Bristol and her K-9 working to stop him, he sets his sights on them. Can they evade him in a lethal game of cat and mouse and protect their cities from devastating destruction before the clock runs out?
Click here to get your copy!
An Author's Take Review
I love books classified as Christian Romantic Suspense. I especially enjoy books that portray strong female characters. Rising Danger is the first book I read by Jerusha Agen, but it definitely met my criteria. It also included hero dogs, so I had to read it.
The author captured my attention with the details shared from the beginning. I felt like I was right there with Bristol, Toby, and Rem doing bomb searches. In fact, the text was so vivid it reminded me of my days serving as a strategic communication specialist working for the military. I was a federal employee who supported an admiral at an expeditionary headquarters. He was the highest-ranking military leader specializing in explosive ordnance disposal (EOD). I recall many conversations with the EOD techs recounting their many bomb encounters.
Overall, I thought the storyline unfolded naturally and at a good pace until the last five chapters of the book. The way the author conveyed the story in those last chapters had me on the edge of my seat.
Rising Danger is definitely filled with lots of suspense. At one point, I had to put my Kindle down because I was getting pretty anxious about what would happen next.
I also appreciated how the author was able to weave in conversations about God into the story. It demonstrated how important God is despite the things going on in the world around us. We can't resolve things on our own, but with God, all things are indeed possible.
If you are interested in reading a Christian Romantic Suspense with a strong female lead and a canine hero, this book is for you.
I highly recommend Rising Danger. I give it 5 out of 5 stars.
Note: I reviewed a complimentary copy of this book which I received through Celebrate Lit. I was not required to write a positive review, nor was I compensated for sharing my thoughts. I am disclosing this per FTC regulations.
About the Author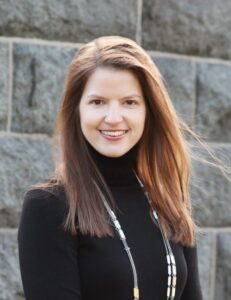 Jerusha Agen imagines danger around every corner, but knows God is there, too. So naturally, she writes suspense infused with the hope of salvation in Jesus Christ.
With a B.A. in English and a background in screenwriting, Jerusha is a speaker, writing instructor, and Fear Warrior who sounds the call to battle against fear in our everyday lives.
Jerusha loves to hang out with her big furry dogs and little furry cats. You'll often find her sharing irresistibly adorable photos of them in her newsletter and on social media.
Get a free suspense story from Jerusha and find more of her thrilling, fear-fighting novels at www.JerushaAgen.com.
More from Jerusha
Hi, readers! For those of you who are familiar with my suspense novels, you know I love to interweave fast-paced suspense with powerful character journeys of redemption. I got to do just that in my romantic suspense novel, Rising Danger.
But what I especially loved about writing Rising Danger was the chance to feature a canine hero. Bristol Bachmann, the heroine of Rising Danger, partners with Toby, an explosives detection K-9, to stop a bomber from unleashing terror on the Twin Cities.
As a lifelong lover of dogs, I've always been fascinated by working K-9s like Toby. Getting to portray this black Labrador's heroism in Rising Danger was so much fun.
I also feel that writing about Toby and the other K-9s in this tale who are part of the Phoenix K-9 Security and Detection Agency was a way to honor the heroic dogs I've had in my own life. No, I haven't known any working K-9s, but I've shared my life with dogs who were heroic in different ways.
Take Lancelot, my first Leonberger. Lancelot was one of the sweetest dogs I've ever known. With his huge size, he was a true gentle giant. At an early age, he became terribly afraid of strangers and new places. I worked with skilled trainers to help him battle his fear, and he did have some improvement. But he would always struggle with meeting new people or visiting locations away from home.
Even so, he never stopped fighting against his fears. He continued to get better the more he fought. And while he battled his fears, he taught me how to battle mine.
Then, the worst battle of all commenced when he was diagnosed with terminal cancer. Doctors gave him only three to four months to live—a frightening and devastating death sentence for the dog of my heart.
But God had more to teach me through Lancelot. This courageous dog fought cancer as hard as he had fought his fears. He taught me how to find joy in every moment of life, even when there's pain or sadness. He taught me how precious and powerful love can be. And God used him to give me unforgettable evidence of God's loving providence and sovereignty at work.
Because God had a different plan for Lancelot. God gave me the gift of over 1,000 more days with my heroic dog.
Right up to the end of his days, Lancelot remained my hero. I'm so pleased to begin a series of books with prequel Rising Danger that feature K-9 heroes who, in different ways, remind me of the heroic dogs I've been privileged to love.
Blog Stops
Book Reviews From an Avid Reader, October 20
Ashley's Clean Book Reviews, October 20
Because I said so — and other adventures in Parenting, October 21
Gina Holder, Author and Blogger, October 21 (Author Interview)
Debbie's Dusty Deliberations, October 22
CarpeDiem, October 22
Betti Mace, October 23
Daysong Reflections, October 23
lakesidereadingsite, October 24
Texas Book-aholic, October 24
Inside the Wong Mind, October 25
deb's Book Review, October 25
A Modern Day Fairy Tale, October 26
Blogging With Carol, October 26
Locks, Hooks and Books, October 27
Simple Harvest Reads, October 27 (Guest Review from Donna Cline)
Inklings and notions, October 28
An Author's Take, October 28
Through the fire blogs, October 29
For Him and My Family, October 29
Musings of a Sassy Bookish Mama, October 30
Truth and Grace Homeschool Academy, October 30
The Meanderings of a Bookworm, October 31
Just Your Average reviews, October 31
Mary Hake, October 31
Pause for Tales, November 1
Spoken from the Heart, November 1
Little Homeschool on the Prairie, November 2
For the Love of Literature, November 2
Giveaway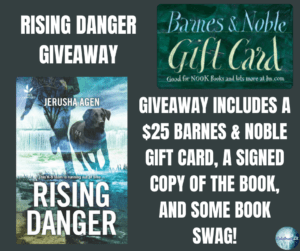 To celebrate her tour, Jerusha is giving away the grand prize package of a $25 Barnes and Noble gift card, one signed copy of Rising Danger, and book swag!!
Be sure to comment on the blog stops for nine extra entries into the giveaway! Click the link below to enter.