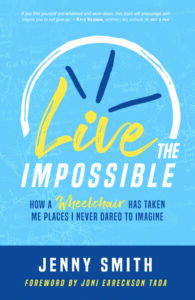 Author: Jenny Smith
Genre: Memoir
Release date: July, 2021
Jenny Smith was a typical teenager—a gymnast and athlete who loved hair and makeup, played in a band, and was active in her church youth group.
Then one bright summer morning, a spinal cord injury left her paralyzed from the chest down and dependent on others for her most basic needs. Privacy and independence seemed like things of the past.
But Jenny refused to give up or give in to her disability, and over time she discovered that a wheelchair could take her places she'd never dared to imagine. She's traveled multiple times to Afghanistan and Mexico for wheelchair distributions and sports camps, and even rolled the New York City runway as a model during Fashion Week.
Today, Jenny Smith is a spokesperson for independent and vibrant living with a disability. Her speeches, articles, and social media presence have touched thousands of lives.
In Live the Impossible, Smith shares what it looks like to live with paralysis, from the everyday details most people never think about, to the countless people who have impacted her life along the way. With honesty and humor, faith and fortitude, Jenny shows us how we can all live the impossible, even when life doesn't go as planned.
Click here to get your copy!
An Author's Take Review
Live the Impossible by Jenny Smith is an incredible read. Jenny did a fantastic job of storytelling taking the reader on a journey that illustrated the good, the bad, the ugly, and the impossible that arises when an individual is faced with a trauma that turns their life upside down. Jenny's book is more than just a memoir. It is an inspiring, motivational self-help book of sorts.
As Jenny recounted her life before the accident, I pictured her as a beautiful, intelligent, athletic, and determined young woman. After the accident, as the story unfolded, I still saw that same determined young woman moving forward despite the obstacles before her. As I kept reading, my perspective did not change. In fact, I gained so much respect for Jenny as she never appeared to let anything stop her. Nothing kept her from doing what she desired to do. To me, this is the inspiring, motivational part. I am not a risk-taker; however, reading how Jenny moved forward despite her spinal cord injury gives me hope that I can do more than just exist in this life. I can live out my dreams too.
Jenny is definitely a gifted writer not afraid to share private details to drive a point home. She was able to share her life story authentically and humorously. I found myself laughing several times while reading some scenarios. I also appreciated how Jenny shared her faith with the reader. There are so many instances I can think of where people reject God after a traumatic event. Jenny certainly is not one of them.
If you are interested in reading a memoir that is also motivational, you will want to check out Live the Impossible. I give it 5 out of 5 stars.
Note: I reviewed a complimentary copy of this book which I received through Celebrate Lit. I was not required to write a positive review, nor was I compensated for sharing my thoughts. I am disclosing this per FTC regulations.
About the Author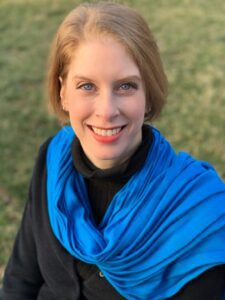 Jenny Smith is an advocate, peer mentor, and encourager for those living with spinal cord injuries, and anyone who has faced unexpected or seemingly impossible challenges. Her popular blog and YouTube channel, Jenny Smith Rolls On, explore the practical aspects of life as a quadriplegic. She also speaks to associations and businesses, schools and universities, and faith-based groups. Jenny works full-time supporting and encouraging cross-cultural workers. She lives in Louisville, Kentucky, where she rows on the Ohio River with the Louisville Adaptive Rowing program.
You can find out more at www.jennysmithrollson.com.
More from Jenny
"I will never write a book."
I can't tell you how many times I said those words. How and why did I publish a book after saying I will never so many times?
For several years, I was writing as a side job for a medical supply company. To learn more about the craft of writing, I signed up for an online class. The instructor invited me to take her next class on writing your life story.
That's when it happened. I felt a little tap on my shoulder and heard—or felt—the words, "It's time."
I groaned.
Since my spinal cord injury at the age of 16, I said never and that's impossible innumerable times. I had said the words before traveling to Mexico and Afghanistan. As I dreamed of living independently as a quadriplegic. I'd said never to playing wheelchair tennis, rugby, and para-rowing. My words that's impossible and never were proved wrong time and again.
So I started writing.
It turns out I've lived what I believed was impossible.
In July 2021, on the 32nd anniversary of my spinal cord injury, my family, friends, and community celebrated with me at the launch party for my memoir Live the Impossible.
Although the book centers on my story of becoming a quadriplegic at 16 and the trials and adventures that followed, the lessons I learned in the years to come are universal:
How I found my identity
The importance of taking a risk
How I became comfortable in my own body
Acknowledging I have little to offer and yet seeing God do things I could never imagine
We all have unexpected circumstances in life. But I believe we can all live the impossible, even when life doesn't go as planned.
Blog Stops
Book Reviews From an Avid Reader, January 18
Happily Managing a Household of Boys, January 18
Texas Book-aholic, January 19
An Author's Take, January 20
Inklings and notions, January 21
Stephanie's Life of Determination, January 21
deb's Book Review, January 22
Debbie's Dusty Deliberations, January 23
Because I said so — and other adventures in Parenting, January 24
A Modern Day Fairy Tale, January 25 (Spotlight)
For Him and My Family, January 26
Lots of Helpers, January 27
Ashley's Clean Book Reviews, January 27
Library Lady's Kid Lit, January 28
Musings of a Sassy Bookish Mama, January 29
Truth and Grace Homeschool Academy, January 30
Spoken from the Heart, January 30
Locks, Hooks and Books, January 31
Giveaway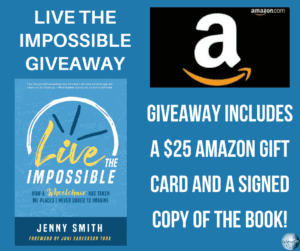 To celebrate her tour, Jenny is giving away the grand prize package of a $25 Amazon gift card and a signed copy of the book!!
Be sure to comment on the blog stops for nine extra entries into the giveaway! Click the link below to enter.