Secrets, Summer, and Second Chances
As a newcomer to Carrie Fancett Pagels' writing, I was immediately captivated by the beautiful cover art of Lilac Cottage, Book 2 in the Mackinac Cottages Series. The stunning shades of purple, perfectly capturing the essence of the island's famous flower, drew me in before I even knew the premise of the story. As a fellow "yooper" who has spent many years away from Michigan, I couldn't wait to dive into this book and indulge in the nostalgia of home.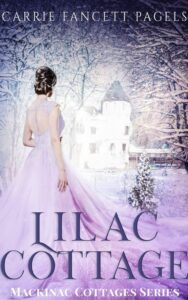 Note: links may be affiliate links that provide me with a small commission at no extra expense to you.
The Tale Begins
It's a story about a young woman named Rachel Dunmara who had been taking care of her grandmother since she was sixteen years old. But when her grandmother passes away, Rachel is left feeling lost and unsure of what to do next. She loses her job and her apartment, so she decides to go to her grandmother's cottage on Mackinac Island to figure things out.
Now, this is where things get interesting. While Rachel is on the island, she reconnects with some people from her past who have had a significant impact on her life. And as she tries to make sense of everything that's happened, she discovers secrets that her family has been keeping from her. But she's not the only one with secrets, as she soon finds out that many of her family friends have secrets of their own. And some of these secrets lead right back to Rachel!
I have to say, the author did an amazing job of keeping me on the edge of my seat with all the twists and turns in this book. I was completely engrossed in the story, and I couldn't put it down! However, I will say that there were a lot of characters and secrets to keep track of, so it did get a little confusing at times. But the author did a fantastic job of tying everything up neatly by the end of the book, so I didn't feel like I missed anything.
Overall, if you're a fan of books that explore themes of second chances, hope, and forgiveness, then I highly recommend giving Lilac Cottage a read. I give it a solid 4 out of 5 stars!
Note: I was fortunate to receive a complimentary copy of this book from Celebrate Lit in exchange for an honest review. Rest assured, my thoughts were not influenced by this arrangement! I was under no obligation to write a positive review or receive any compensation. I am simply being transparent and complying with FTC regulations.
Lilac Cottage is on Tour with Celebrate Lit.
Author: Carrie Fancett Pagels
Genre: Historical Romance, Christian Fiction
Release date: April 12, 2023
Inspirational Contemporary Women's Fiction from Award-winning Bestselling Author Carrie Fancett Pagels
Lilac Cottage – set on Mackinac Island, Book 2 Mackinac Cottages Series
Out of options, after losing her job and apartment, Rachel Dunmara "camps out" at her deceased Grandmother's cottage on Mackinac Island. Next door, her childhood nemesis, Jack Welling, is overseeing his family's remodeling of their home on the West Bluff. When Rachel's new boss, at a local coffee shop, pushes her to work as Jack's assistant, for her second job, can they mend their rift?
Kareen Parker, widowed in the past year, returns to the island to share long-held information with her son and to transition ownership of her resort to her son. Her grandson befriends Rachel, who was banned by her family from associating with the Parkers.
After a summer full of secrets that are finally revealed, can three families be healed?
Click here to get your copy!
About the Author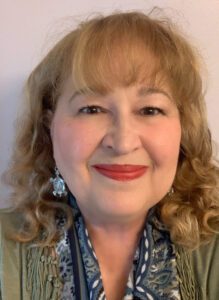 Carrie Fancett Pagels is the award-winning author and bestselling author of over twenty Christian fiction books. Twenty-five years as a psychologist didn't "cure" her overactive imagination! Raised in Michigan's beautiful Upper Peninsula, you'll find her most summers at the Straits of Mackinac—where many of her stories are set.
More from Carrie
Why I Wrote Lilac Cottage
I had felt the Lord nudging me to write a sequel to my first-ever Women's Fiction, Butterfly Cottage (after writing 20+ Historical Romances in Christian Fiction). I travel up to the Straits of Mackinac each summer to do book signings, library visits, and to see family and friends. At several of my book signings at the Island Bookstore, on Mackinac Island, I had readers ask if I had a sequel planned for Butterfly Cottage. I met a lovely young reader at one of the signings, who worked at Lucky Bean, my fave coffee shop in the world and it is on the island. Rachel asked me about plans for the next book and I thought – what if I had a young heroine who worked at Lucky Bean for the summer? Ya know, most authors stories start with the what if. So, I also tossed around the notion of what if Rachel was actually camping out in one of the mansions, called "cottages", up on West Bluff? That spawned my plot thoughts.
When I work, I percolate an idea. I also will not pursue writing a story unless God's hand is on it. So, I first submitted my will to His. I got the go ahead. I also got a lot of other stuff: Norovirus, Covid, a root canal and crown, a bleed on an optic nerve, and also what I thought might be a heart attack but thankfully it was only my Rheumatoid Arthritis, oh and did I mention recurrent shingles? Yup—all that. So, I figure there must be a reason this book needs to be written for me to have confronted such opposition from the enemy.
This is my very first novel where the main characters are all saved and are all newbies as far as being refreshed in their faith. At my church, one of the pastors preached about how new Christians are so on fire for the Lord and how they are often different from those of us who have been saved for a long time. I wanted to have that reflected in this novel.
I know people have strong feelings about the pandemic. I wanted to make sure I had written something that included some reality of what the winding down was like in 2022, which is when the story is set. My father was born in 1918 during the Spanish Flu pandemic and I always felt that authors from that time didn't include enough references to how this affected people. I didn't dwell on Covid in this novel, but I did touch on it in I hope realistic ways, such as shortages of workers.
Whew! One other reason I wrote some of the characters in this book was to give one of my continuing characters, Mrs. Hampy Parker, some redemption. She's been a Co-dependent in two of my books (Butterfly Cottage and Behind Love's Wall) and it was time, since she's now in her early 80's, for her to get free from that. I enjoyed the new start her character got and it was inspired by one of my friend's real life stories.
Thank you for being part of the tour!!! And may God bless and keep you!
Blog Stops
An Author's Take, May 2
Debbie's Dusty Deliberations, May 3
Blossoms and Blessings, May 3
Truth and Grace Homeschool Academy, May 4
Betti Mace, May 5
She Lives to Read, May 5
Babbling Becky L's Book Impressions , May 6
Texas Book-aholic, May 7
Mornings at Character Café, May 7
For Him and My Family, May 8
Locks, Hooks and Books, May 9
Mary Hake, May 9
Happily Managing a Household of Boys, May 10
Connie's History Classroom, May 11
Holly's Book Corner, May 11
Sylvan Musings, May 12
Gina Holder, Author and Blogger, May 13 (Author Interview)
Books You Can Feel Good About, May 14
Christina's Corner, May 14
debs book review, May 15
Books I've Read, May 15
Giveaway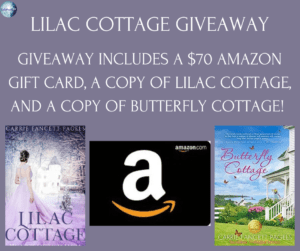 To celebrate her tour, Carrie is giving away the grand prize package of $70 Amazon Gift Card, a copy of Lilac Cottage, and a copy of Butterfly Cottage!!
Be sure to comment on the blog stops for nine extra entries into the giveaway! Click the link below to enter.