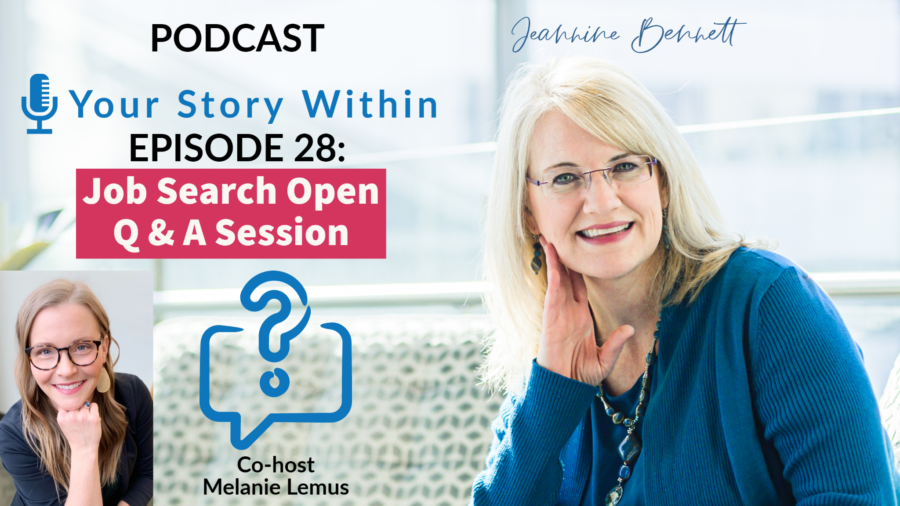 Episode 28: Ask an Expert Q&A
Welcome to "Your Story Within Podcast," the go-to resource for authors, job seekers, business owners, and professionals seeking valuable insights and expert advice. In Episode 28, we take a unique approach by presenting a question and answer format, exclusively focused on the complex journey of job seeking. If you've been grappling with questions about resume writing, cover letter drafting, networking, interviewing, and more, this episode is a must-listen!
Hosted by our knowledgeable and experienced team, this episode is designed to address the most common queries that arise during the job search process. Whether you're a recent graduate entering the job market for the first time or a seasoned professional considering a career change, our experts provide practical answers and actionable tips to propel your job search success.
Listen in as our panel of industry experts dives deep into the intricacies of resume writing, revealing the essential elements that make a resume stand out. Discover how to effectively showcase your skills, achievements, and experiences to captivate hiring managers and land that coveted interview. Gain insights into crafting a compelling cover letter that grabs attention and highlights your unique value proposition.
Networking is a crucial component of any successful job search, and our experts share proven strategies to build meaningful connections and tap into the hidden job market. Learn how to harness the power of professional relationships, leverage social media platforms, and make a lasting impression that opens doors to new opportunities.
Preparing for interviews can be daunting, but fear not! Our panel provides valuable guidance on interview techniques, from mastering common interview questions to projecting confidence and demonstrating your fit for the role. Discover how to effectively communicate your skills, experiences, and potential contributions, leaving a lasting impression on prospective employers.
If you're seeking answers to your burning job search questions, look no further. Tune in to Episode 28 of "Your Story Within Podcast" and gain invaluable insights from our experts. Whether you're just starting your job search or in the midst of a career transition, this episode equips you with the knowledge and strategies needed to navigate the complexities of finding your dream job.
Keywords: Your Story Within Podcast, job seekers, Q&A format, resume writing, cover letter, networking, interviewing, job search success, career change, professional relationships, interview techniques.
Click the graphic to watch the video.