Author: Tabitha Bouldin
Genre: Christian Contemporary Romance
Release date: May 31, 2022
Can one captain show her the deep love of the ultimate Captain without falling in love himself?
Bree Jamison comes to Sparrow Island for one reason: to study coral reefs. She's not interested in happily-ever-after and certainly won't allow her handsome boat captain to sway her into believing these islands are different from any others. But when she finds an old shipwreck and learns the history of pirates and treasure, Bree finds herself searching for something that always feels just out of reach.
Cooper Carmichael takes the job as boat captain for the enigmatic Bree to further his career. He never expected her to be so driven—or so painfully opposed to God.
All Cooper wants is his happy island life. He wants for nothing. In fact, he's made it his mission to be content. In every aspect of his life. Bree throws a wrench in his plan as her presence pushes Cooper to want for things he deems unnecessary.
A man striving for contentment. A woman who believes God is picking on her.
It takes one to show the other that no matter which shore you find yourself on, God got there first.
Read the next Sparrow Island novel in the Independence Islands Series featuring five islands, six authors, and a boatload of happily-ever-afters.
The Independence Islands Series: beach reads aren't just for summer anymore.
Click here to get your copy!
An Author's Take Review
If you like Christian contemporary romance books with a beach vibe, check out From Shore to Shore by Tabitha Bouldin.
Bree Jamison is a diver researching coral reefs as part of a study. She is mission-driven and won't let anyone deter her from her goals. She has been hurt in the past and is not seeking a relationship with a person or God.
Cooper Carmichael signs on to shuttle Bree around as her boat captain. Letting go of his past relationship to live an honorable life focused on God and dedicated to his family and friends is his plan. Until he meets Bree.
The story gets interesting when Bree and a fellow diver find more than coral reefs to study. The newfound excitement and adventure draw Bree and Cooper a bit closer together, causing them both to question whether the decisions they made in life were the right ones.
Outside of the adventure, my favorite parts of the book were the simple conversations Cooper, a strong Christian, had with Bree about God. He does not preach, but shares another perspective for her to consider. This made the book very relatable.
Overall, I found the book to be an excellent read. I give From Shore to Shore 5 out of 5 stars.
Note: I reviewed a complimentary copy of this book, which I received through Celebrate Lit. I was not required to write a positive review, nor was I compensated for sharing my thoughts.
About the Author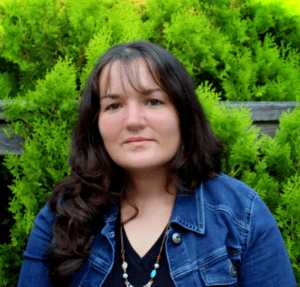 Tabitha Bouldin is a student at Southern New Hampshire University, where she is currently pursuing her Bachelor's in Creative Writing. As a member of American Christian Fiction Writers (ACFW), she works with critique groups and provides endorsements for other authors. Tabitha's genre of choice is Contemporary Christian Romance which she describes as: Adventure with heart. Tabitha spent ten years working as a Medical Assistant before God opened the door which allowed her to become a stay-at-home-homeschooling-mom and author.
More from Tabitha
Writing in the Independence Islands series has been a true blessing, and From Shore to Shore is no different, except that these characters brought out feelings that I never expected.
Most of the time, when I go into a story, I know a bit of what's going to happen. I already understand the characters' backstory and what has driven them to this point in there life where I've picked up their tale and begun to weave it into a book.
Bree decided she wanted to go another route.
Cooper didn't want to talk to me for half the book.
Christian walked onto the page and tried to take over because he didn't want to wait for his turn in book five.
These characters, I tell you what, they're a demanding bunch.
Finally, though, finally they settled in and told me their story.
You might remember Cooper, he's Mel's brother and he showed up in book one, Mishaps off the Mainland. Cooper is a delightful yet careful captain who delights in the open ocean and loves the islands.
Bree is a tangled mess of consternation. She scorns love and believes it to be a trap. Even God's love is suspect in Bree's eyes.
These two are imperfectly suited for each other, but God has a plan to help them both, and He helped me through every page of From Shore to Shore, a story that shows no matter how far you run, no matter what shore you find yourself on, God got there first.
Blog Stops
Debbie's Dusty Deliberations, June 23
Christina's Corner, June 23
lakesidelivingsite, June 24
An Author's Take, June 25
Texas Book-aholic, June 25
Inklings and notions, June 26
For Him and My Family, June 27
Sylvan Musings, June 27
deb's Book Review, June 28
Aryn the Libraryan, June 29
Locks, Hooks and Books, June 29
Ashley's Clean Book Reviews, June 30
Life, Love, Writing, July 1
Because I said so — and other adventures in Parenting, July 1
Truth and Grace Homeschool Academy, July 2
Blossoms and Blessings, July 3
Miriam Jacob, July 3
She Lives To Read, July 4
Happily Managing a Household of Boys, July 5
Blogging With Carol, July 5
Simple Harvest Reads, July 6 (Guest Review from Donna Cline)
Giveaway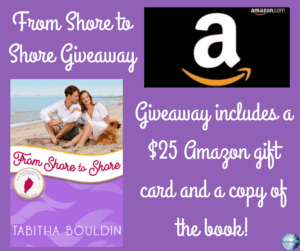 To celebrate her tour, Tabitha is giving away the grand prize package a $25 Amazon gift card and a copy of the book!!
Be sure to comment on the blog stops for nine extra entries into the giveaway! Click the link below to enter.