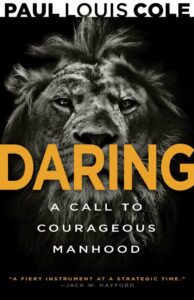 Author: Paul Louis Cole
Genre: RELIGION / Christian Living/Men's Interests
Release date: February 15, 2022
Victory is always on the other side of a fight. Here is help to win the battles and keep on winning!
Daring: A Call To Courageous Manhood sets the tone for a new wave of masculinity by defining what it is to be a man of courage, endurance, and resolve. The unique, creative voice of Paul Louis Cole cuts through cultural clutter to speak to the issues that lay in the heart of every man.
Click here to get your copy!
An Author's Take Review
Daring: A Call to Courageous Manhood is not a book I would typically read. First, it is written for men to encourage them to rediscover what it truly means to be a God-honoring, daring, and courageous man in the world today. Second, the author challenges men explicitly to awaken from their complacency, defy their fears, and change their life to fulfill the purpose of being a man. As a woman reading this book, I wasn't sure what I would get out of it. To my surprise, a lot!
I picked up the book because I wanted to better understand what my husband and son deal with as Christians in this fallen world today. However, what I found was encouragement for me too. The book takes men on a journey through the topics of standing strong, following God, training to win, facing fears, taking risks, enduring, dying to self, and accepting challenges. Again, topics that are crucial for women too.
God's Holy Word does not change, and many of the verses shared can apply to both men and women. The same goes for the carefully selected quotes and stories sprinkled throughout the book. Although the book is written for men, I truly believe all Christians can read it and gain a wealth of wisdom from it.
I appreciated the author's desire to encourage men, the format of the book, and the words shared. The book is well-written! I have informed my husband and son they need to add this book to the top of their reading list.
If you are looking for a book to help the Christian men in your life, I highly recommend Daring: A Call to Courageous Manhood. I give it 5 out of 5 stars. 
Disclaimer:
I reviewed a complimentary copy of this book which I received through Celebrate Lit. I was not required to write a positive review, nor was I compensated for sharing my thoughts. I am disclosing this per the FTC regulations.
About the Author
Paul Louis Cole, D.Th., president of Christian Men's Network, is a communicator, church planter, pastor, author, and one of the world's leading experts on men's issues. Paul is an award-winning media writer/producer/director, but his passion is in carrying the message of Christlike manhood globally. The son of Edwin Louis Cole, he has continued the work of the Christian Men's Network, helping pastors build strong men, strong families, and strong churches in over 100 nations. Paul's mission is to rescue men, defeat fatherlessness, and end child abuse by providing leadership tools and strategies to bring a clear and defining word to men. Paul and his wife of forty-plus years, Judi, reside in Grapevine, Texas. They have three children and five grandchildren.
More from Whitaker House
"Electrifies the heart to beat loudly and strongly as the lion's heart…"
—Leonard Sweet, New York Times Bestselling Author
"A masterpiece to challenge you…and change your life"
—Dale C. Bronner, Word of Faith Family Cathedral
"I highly recommend this book to help you navigate the challenges of life to become God's man…"
—Jonathan Falwell
Blog Stops
Debbie's Dusty Deliberations, February 26
Artistic Nobody, February 27 (Spotlight)
Inklings and notions, February 28
Texas Book-aholic, March 1
Simple Harvest Reads, March 2 (Spotlight)
Miriam Jacob, March 2
deb's Book Review, March 3
Fiction Book Lover, March 4 (Spotlight)
Ashley's Clean Book Reviews, March 5
Because I said so — and other adventures in Parenting, March 6
Spoken from the Heart, March 7 (Spotlight)
Happily Managing a Household of Boys, March 7
For Him and My Family, March 8
An Author's Take, March 9
Guild Master, March 10 (Spotlight)
Locks, Hooks and Books, March 11
Giveaway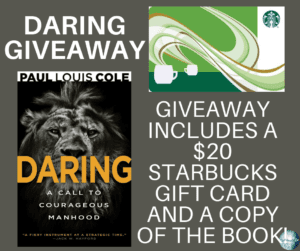 To celebrate his tour, Paul is giving away the grand prize package of a $20 Starbucks gift card and a copy of the book!!
Be sure to comment on the blog stops for nine extra entries into the giveaway! Click the link below to enter.