A Heartwarming Tale of Hope and Love
"Coming Home to Truth" by Michelle De Bruin is a compelling work of inspirational historical fiction that invites readers to embark on a journey through the lives of its two central characters, Lacy Jones and Conrad Van Drunen. Lacy, a young high school graduate, is eager to break free from the constraints of her health struggles and life of poverty. She wants to experience true freedom. Lacy leaves her small town on an adventure with her friend, Rose to reunite with their former beloved country school teacher. Although her parents are not thrilled about Lacy leaving, they allow her to go. On the journey, a twist of fate separates the friends, leaving Lacy in a strange town on her own. In this new place, Lacy rediscovers old acquaintances and embarks on a journey of self-discovery.
Conrad Van Drunen, a widower and a single father who has dedicated himself to his furniture business and raising his two children, enters Lacy's life unexpectedly. Despite his initial reluctance to consider remarriage, destiny has other plans in store for him. With the help of his family, Conrad sees the potential for love and happiness in the most unexpected of places.
"Coming Home to Truth" skillfully weaves themes of hope, love, and self-discovery into a narrative that is filled with heartwarming moments and unexpected twists. The author reveals that a thin line exists between deception and truth, reminding us that the road to happiness is often paved with unforeseen challenges and opportunities.
This inspirational novel is a testament to the resilience of the human spirit and the transformative power of love and hope. For those seeking a captivating tale of perseverance, unexpected connections, and the enduring pursuit of dreams, "Coming Home to Truth" is a must-read that will leave a lasting impact.
I give this book a 5 out of 5 stars!
Note: I received a copy of this book from Celebrate Lit for review. I was not compensated for my review, nor was I expected to give a positive review. I have given my honest review.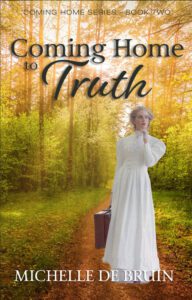 Coming Home to Truth is on Tour with Celebrate Lit.
Book: Coming Home to Truth
Author: Michelle De Bruin
Genre: Inspirational Historical Fiction
Release Date: June 20, 2022
In a search for her future, Lacy Jones travels with a friend to a new town where a single dad shows her how to find meaning and lasting success.
Lacy Jones, a graduate of her small high school, knows her whole world is about to change. She dreams of freedom from the struggles with her health, and of the independence that comes with a steady job. When her friend invites her to share the journey to visit the teacher from their country school days, Lacy finally gets the chance to chase her dreams. But when the girls get separated along the way, Lacy is left to make the trip alone. Arriving in a strange town, Lacy is reunited with old friends who introduce her to a new life, new relationships, and a new way of seeing herself.
Conrad Van Drunen has spent the last four years developing his furniture business and raising his two children. He knows they need a mother, but he isn't ready to talk of remarriage. When Lacy Jones falls across his path, Conrad is forced to make some changes. His brother and sister-in-law offer their assistance from babysitting and financial counsel to matchmaking, but Conrad has other plans. Losing hope of finding what he lost with his first wife, Conrad discovers the mother he's been seeking for his children in the most unexpected place.
Journey with Lacy and Conrad through trials and joys where deception and the truth can sometimes look an awfully lot alike.
Click here to get your copy!
About the Author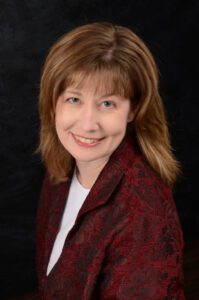 Michelle De Bruin lives in Iowa with her husband of 25 years and two young adult sons who are college students at Iowa State. She has a bachelor's degree in religion with a Christian Ministry emphasis, and in Music. Michelle serves as a chaplain for Pella Regional Health Center. She writes inspirational historical romance about people who live in rural communities. Characters that bring to life the delights of farm and small-town living, whispers of Dutch heritage, and Christian faith make Michelle's stories distinct. A romantic at heart, Michelle is always on the lookout for glimpses of God's love through the window of a good story. You can learn more about Michelle by visiting her website: michelledebruin.com
More from Michelle
Coming Home to Truth is the second in a trilogy of books set in a small Iowa town during the years 1913 through 1918. This is the second series of books I have written. The Tomorrow series is the first set, and if you've already read it, you will recognize characters that appeared in Hope for Tomorrow, Promise for Tomorrow, and Dreaming of Tomorrow.
This book is a delightful story of Conrad, a single dad, and Lacy, a young lady searching for a place to belong. Conrad would like to find a mother for his two school-age children but feels that the risks are just too high. Lacy wants to prove that she can support herself and can use her talents in photography to establish a new career.
In this story, Lacy's friends see her differently than she sees herself. It causes her to take a second look at her life to decide what is true and what isn't. This book takes us on a journey with Lacy and Conrad through trials and joys where deception and the truth can sometimes look an awfully lot alike.
Thank you for joining me on this tour. I hope you enjoy the blog posts and enter the drawing for the giveaway. Follow me on social media and subscribe to my newsletter at https://michelledebruin.com/.
Grace and peace,
Michelle De Bruin
Blog Stops
An Author's Take, September 1
Truth and Grace Homeschool Academy, September 2
Texas Book-aholic, September 3
Lighthouse Academy Blog, September 4 (Guest Review from Marilyn Ridgway)
Gina Holder, Author and Blogger, September 5 (Author Interview)
Debbie's Dusty Deliberations, September 5
lakesidelivingsite, September 6
Abba's Prayer Warrior Princess, September 7
Locks, Hooks and Books, September 8
Connie's History Classroom, September 9
Happily Managing a Household of Boys, September 10
For Him and My Family, September 11
Cover Lover Book Review, September 12
Karen Baney Reviews, September 12
Holly's Book Corner, September 13
Tell Tale Book Reviews, September 14 (Author Interview)
Pause for Tales, September 14
Giveaway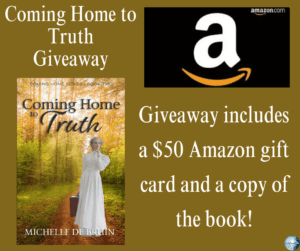 To celebrate her tour, Michelle is giving away the grand prize package of a $50 Amazon gift card & copy of the book!!
Be sure to comment on the blog stops for nine extra entries into the giveaway! Click the link below to enter.