Book: A Life Set Free
Author: Rena Groot
Genre: Non-Fiction
Release date: 2019
A Life Set Free was carried in my heart for years before I finally had the courage to write it. It was written under a mosquito net in China. The final editing took place at a guest house in Israel. It is filled with stories from God sparing my life to leading me on incredible adventures as an ambassador with "The Department of Eternal Affairs" to so many cool places ~ Haiti, a jungle village in Belize, the Ghetto in NYC, behind the Iron Curtain in Poland and Romania, Israel, China, Thailand, Mexico, Canada, Africa, and Greece. It is a story of God's love and faithfulness.
Click here to get your copy!
An Author's Take
If you like Christian nonfiction stories depicting the lives of people who have overcome significant challenges, I highly recommend that you check out A Life Set Free by Rena Groot.
I enjoyed Rena's conversational tone. The vulnerability and authenticity came through in her writing style. Having written a book based on personal struggles, I know it was not an easy story for Rena to share with the world. It takes courage and strength and, most importantly, God's divine intervention and His perfect timing to do so. Rena was obedient and shared her testimony, as we are called to do. It was evident that those trials led to a life of peace in God.
We live in a fallen world, and people can do horrible things, but through Rena's book, I was again reminded that despite the bad in the world, God is good, He loves us, and He is still in control.
Overall, I found the book to be a heartfelt and authentic read. I give A Life Set Free 5 out of 5 stars.
Note: I reviewed a complimentary copy of this book, which I received through Celebrate Lit. I was not required to write a positive review or be compensated for sharing my thoughts.
About the Author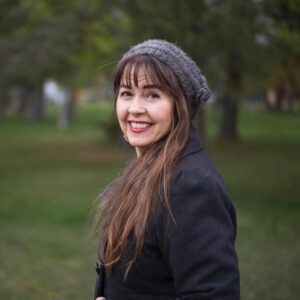 My name is Rena Groot and I am honored you have chosen to take a moment of your life to read this. I am an artist, author, have a Bachelor of Education from the University of Alberta and a Masters of Religious Education from the Canadian Southern Baptist Seminary in Cochrane, Alberta. I have been a teacher in Canada and China, a tour manager from the Rockies to the Pacific, a missionary to the ends of the Earth, a mom of four ~ and best of all, a child of God.
More from Rena
Why did I write this book? Because I had to. I wrote it for me…but God wanted me to share it with the world…with you…so you could be encouraged and know that God loves you…more than you can possibly imagine.
Blog Stops
Debbie's Dusty Deliberations, March 5
Texas Book-aholic, March 6
Locks, Hooks and Books, March 7
deb's Book Review, March 8
An Author's Take, March 9
Lots of Helpers, March 9
Ashley's Clean Book Reviews, March 10
Because I said so — and other adventures in Parenting, March 11
Cover Lover Book Review, March 12
Lily's Book Reviews, March 13
For Him and My Family, March 14
Truth and Grace Homeschool Academy, March 15
Lights in a Dark World, March 16
Happily Managing a Household of Boys, March 17
Vibrant Wings by Valerie, March 18
Mary Hake, March 18
Giveaway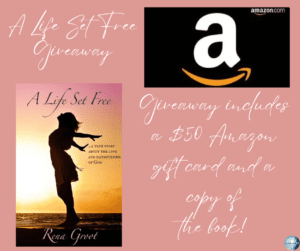 To celebrate her tour, Rena is giving away the grand prize package of a $50 Amazon gift card and a copy of the book!
Be sure to comment on the blog stops for nine extra entries into the giveaway! Click the link below to enter.