About the Book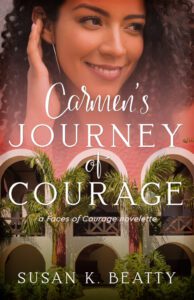 Carmen's Journey of Courage
Author: Susan K Beatty
Genre: Christian Women's Fiction
Release date: September 14, 2021
Truly the odd woman out, Army weapons expert Carmen belongs to a family where PhDs are almost a second surname.
Oh, and she's also persona non grata since that one little incident back in her teens. The one that her Tia Graviella still hasn't forgiven her for. The one her parents and siblings will never let her forget.
A trip to Mexico City, complete with a bit of groveling at Tia Graviella's feet, might just be what it takes to gain forgiveness and a fresh start with her family. Not only that, her tia is ailing, and someone needs to check up on her. Carmen can solve two problems with one would-do-anything-to-avoid-it trip.
Something is off, however, and as Carmen investigates, she begins to wonder if there's more to her aunt's troubles than ill health.
When Carmen sets her course on making things right, will it repair more than the wreckage from a youthful miscalculation?
Click here to get your copy!
An Author's Take Review
With my busy schedule, I love it when I find a good novelette. Carmen's Journey of Courage turned out to be a great one!
Admittedly, I was drawn to this book because I could resonate with it. I was raised in a Mexican family, so the cover and storyline caught my attention from the start. As a former federal government employee, I also trained with the Army, specifically with Army Weapons Specialists, so the book really felt like it would be an excellent fit for me.
The book turned out to be more than I expected. From a cultural perspective, it took me back to eating Mexican food and chatting with family in Spanish. Although I did not grow up with an eccentric, wealthy aunt, I had a large, caring family who experienced tragedy and heartbreak and great love and compassion. Similar to what I found as I read each page of this book.
As for the storyline, the book held my interest the entire time. In fact, I read the book in one day because I was invested in finding out what happened next. Although a novelette, the book had plenty of great surprises around each corner. I also felt the story concluded naturally and not abruptly, which is not easy for an author to do when writing a shorter book. The author demonstrated mastery of her craft.
If you are interested in a good mystery with a strong female lead who dares to face the issues of the day and the heart to seek forgiveness for a past wrong, then this book is perfect for you!
I highly recommend Carmen's Journey of Courage. I give it 5 out of 5 stars!
Note: I reviewed a complimentary copy of this book which I received through Celebrate Lit. I was not required to write a positive review nor was I compensated to share my thoughts. I am disclosing this in accordance with  FTC regulations.
About the Author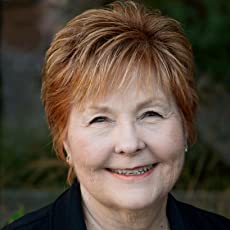 "Courage: The intersection of faith and Grit"
Susan K. Beatty is passionate about finding courage through faith and grit, particularly through the trials of breast cancer. Her daughter is a metastatic breast cancer "thriver" and has been an inspiration for her writing. Susan retired from a full-time job in 2017 and is now pursuing a novel-writing career. Her first novel, "Faces of Courage," is in revision. Susan is the author of "An Introduction to Home Education" (AKA "California Homeschool Manual"), was the assistant director of the SoCal Christian Writers' Conference and is the president of her local ACFW-OC Chapter. She is a professional writer/journalist. Susan is proof you can begin a fiction writing career after age seventy.
More from Susan
Have you ever known in your heart you needed to ask someone to forgive you, but the thought scared you so much you were convinced they would reject you? So scared you couldn't bring yourself to ask?
Sometimes we are more fearful of man than God, conveniently ignoring the responsibility to be right with others and to live in peace. It's hard to live in peace when that thing, that whatever it was we need to apologize for, is lying like a lump of toxic waste in our hearts.
In Carmen's Journey of Courage, Carmen ignored her need to ask for forgiveness for years. Well, she didn't really ignore it, she just kept burying it every time she thought of it. Which was often.
It took an outside force to get her positioned in such a way that she had to face the situation.
Carmen is the odd woman out in her family. Every one of her siblings possesses enough educational degrees to wallpaper a room. But not Carmen. Her two older sisters' treatment of her pushed Carmen in the opposite direction and toward a desire to find her own way on her own terms. Instead of college, Carmen enlisted and excelled in the army.
As God sometimes does, He uses the exact person Carmen would prefer to avoid—her oldest sister—to get her to Mexico City and their great aunt. Circumstances are not what she expects. She needs to face more than her tía and solve a mystery with the aid of her army training.
It's a journey of courage.
We all face tough decisions. I wrote Carmen's Journey of Courage to inspire bravery when life is hard.
Find your courage at the intersection of faith and grit.
Blog Stops
Texas Book-aholic, October 1
Happily Managing a Household of Boys, October 2
lakesidelivingsite, October 2
Debbie's Dusty Deliberations, October 3
Inklings and notions, October 4
For Him and My Family, October 5
deb's Book Review, October 6
Locks, Hooks and Books, October 7
Betti Mace, October 8
Splashes of Joy, October 8
Ashley's Clean Book Reviews, October 9
Because I said so — and other adventures in Parenting, October 10
A Modern Day Fairy Tale, October 11
Musings of a Sassy Bookish Mama, October 12
An Author's Take, October 12
The Meanderings of a Bookworm, October 13
Truth and Grace Homeschool Academy, October 14
Giveaway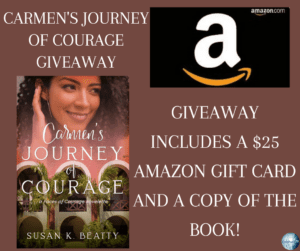 To celebrate her tour, Susan is giving away the grand prize package of a $25 Amazon gift card and copy of the book!!
Be sure to comment on the blog stops for nine extra entries into the giveaway! Click the link below to enter.